My Super Awesome Set of Buck Knives Cutlery
If you don't know Buck Knives – allow me to introduce you to this family-owned/operated, made-in-america company in Idaho.
And if you really want to know A LOT more about Buck Knives, tune in to a documentary created by Rusted Rooster Media and Sportsman Channel called "Edge of a Legend – the Story Behind Buck Knives" airing on Sportsman Channel May 21 at 7 pm ET.
I received this lovely set of knives as part of an auction package I bid on at the POMA Outdoor Writers Conference in March. Originally, nothing from Buck Knives was included in the package, but as they got going trying to get bids, the folks at Buck Knives suddenly added this unique elk-horn carved cutlery set of knives to sweeten the pot. AND they insisted on including my company logo on the knives. (I said 'no' twice as I didn't want them to spend more time on this, but they talked me into it – what great guys!)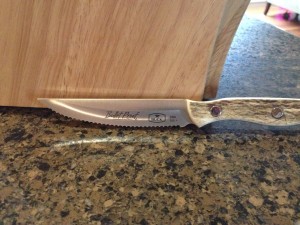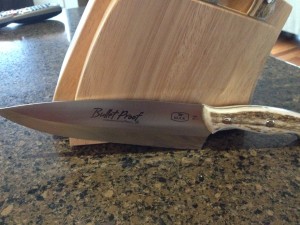 I saw the CJ Buck (current owner and president) and Bob George, his right-hand man, at the NRA Annual Meetings and confessed my love for the beautiful knives, which I learned is the EXACT same set  Craig Morgan owns. So now I am feeling pretty darn special.
And that's one thing about Buck Knives if you ever had a chance to meet them, they always make you feel special. Even when I worked for the network in the early days and we were nobody, CJ Buck and his staff still treated us with respect and always, always made a point to say "Hi" and shake our hands. Truly upstanding people.
I am not worried about maintaining these puppies because the set comes with its own sharpener, which I learned how to use also at the POMA conference thanks to my new friend, Tom Claycomb III. Tom has to be the hardest working outdoor writer I've ever met, and he knows a thing or two about knives and their care. Not only is he a knife pro-staffer, but he also wrote this e-book on knife sharpening (which I'm going to have to buy now).
I can't wait to use this set come summer BBQ time – and for my Mom & Dad's 50th Wedding Anniversary weekend in June. We are heading "up north" and I think I might bring these bad boys along.
If you want your own set so you, too, can say you have a set just like Craig Morgan (and me!), visit Buck Knives here.