In my last post, I talked about Dutch Oven Cooking basics I learned while at Ponca State Park cooking weekend in Ponca, Neb.  I also learned a very interesting cooking technique for large parties called "Cream Can Cooking." I've never heard of this before, but after learning the basics, it is super easy and will easily feed a party of 30. I liken it to a low country boil if you add in some shellfish.
Tools needed:
10 gal cream can – NOT your grandmother's cream can. Reason? The welding on the bottom of the can won't be able to withstand
the extremely high temps for long period of time and the bottom ring will likely pop off. I'm told you can buy cream cans able to withstand the heat at Scheel's and other outdoor retailers.
Here are a couple other sites I found:
www.ogallalacreamcansupper.com and www.cancooker.com
Turkey stand fryer with full propane tank
Lots and lots of food
Recipe:
30 ears of corn, cleaned
10 lb of new potatoes, scrubbed (new potatoes are the little guys, if you don't have those, any potato will do, just cut them in half)
10 lbs of carrots, scrubbed and peeled
10 lb polish sausage, cut into 4 inch pieces
Onions to suit your taste
Tblsp each of pepper, salt and oregano (you don't need too many seasonings as the sausage will carry your flavoring into the veggies)
6 cans of beer (any kind)
Place ears of corn on the bottom, upright. This keeps other food out of the liquid that is added last. Add remainder of ingredients. Pour beer over all.
IMPORTANT STEP: Grease the inside of the can lid with butter, cover can and strap lid down LOOSELY (this is avoid the lid blowing off and hitting someone in the face, but still allowing steam to vent.)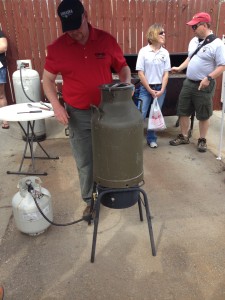 Sit cream can on your turkey fryer and crank the propane on full blast. It will take roughly 15-20 before you see steam escaping from the top and the can will "sweat" a little bit. Once you see steam, set your timer for 30 minutes, keeping your propane on high the entire time.
You can also sit your cream can on top of a wood fire, but I would imagine that would take half day before it cooks. To clean black smoke off your can easier, run liquid detergent over it before sitting it on the fire.
Enjoy!!