My Time at CPAC – in Pictures
I spent the last few days attending the Conservative Political Action Conference (CPAC) in D.C. on behalf of Sportsman Channel in order to promote their latest and greatest show, "Amazing America with Sarah Palin."
I wasn't sure what to expect. Was there much excitement? Yes. Did people gravitate to our Sarah Palin-ized booth. Yes.  Did everyone ask if she was doing a meet & greet in our booth? Yes (and no, she didn't). And on and on. The only way to truly showcase what I ran into is via pictures.
First off – we were giving away these actually very nice bags labeled "Amazing America with Sarah Palin" and the premiere date. I thought I'd get one of the people walking around in stilts to pose for a cool picture for me.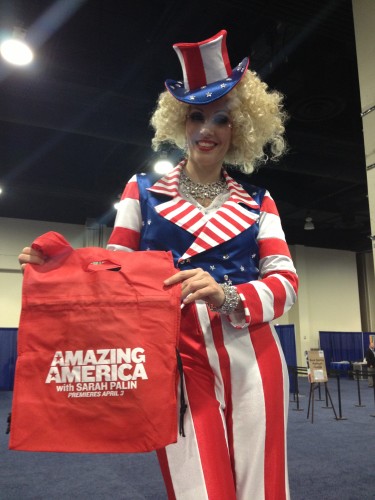 And then this happened. A lot. One guy even offered us $3500 for the banner stand. We considered it.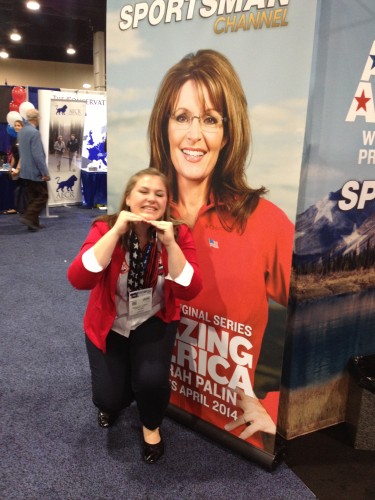 Now this guy is the real thing. Meet O.P. Ditch (@OPDitch) of Vets4Palin. He made his own t-shirt AND signs for her speech on Saturday. He was pretty darn cool.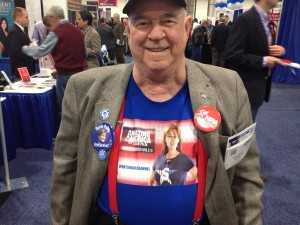 So the HIGHLIGHT of my trip was meeting Emily Miller, senior editor of opinion at The Washington Times and just an intelligent woman on all things 2nd Amendment and gun-related. She's like the female version of Cam Edwards. She signed my book (which I bought there) and then went on Cam & Co show on NRANEWS. You can view her interview here. (And I tend to agree with her on the pink gun debate)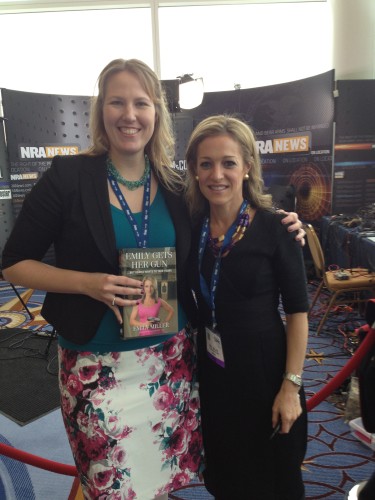 Emily was great on Cam & Co. show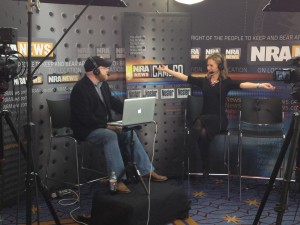 And the Duggars were there! Jim Bob stopped by with many of his kids in tow (didn't see Michelle) as they were pushing their new book, "Growing up Duggar." Jim Bob was kind enough to pop on Cam's show for a brief appearance. I asked him afterwards if he watches Sportsman Channel and of course, they don't watch cable in their household. But I did mention to him if his daughters were interested learning about hunting, that I knew some people to help out 🙂
So that's a wrap of the three days I spent in a window-less convention center. Although it wasn't all that bad. The Gaylord Hotel was super nice – and it was only a mile from an outlet mall.