Q&A with Benny Spies – Field Host of "Amazing America with Sarah Palin"
Unless you've lived under a rock the past month, then you know about the new show on Sportsman Channel "Amazing America with Sarah Palin." I'm partial to one of the field hosts, Benny Spies (as seen by this trip and subsequent blog post I wrote last July). Benny is unlike any other host in outdoor TV with his show "Gun It with Benny Spies." He's a hard worker, a South Dakotan homeboy and really, just wants to do right for outdoor TV while having a little fun. Who can argue with that?
I hope you tune in to his debut on AASP this Thursday, April 17 at 8 p.m. ET where he searches for sunken pirate treasure among other fun, "amazing" things.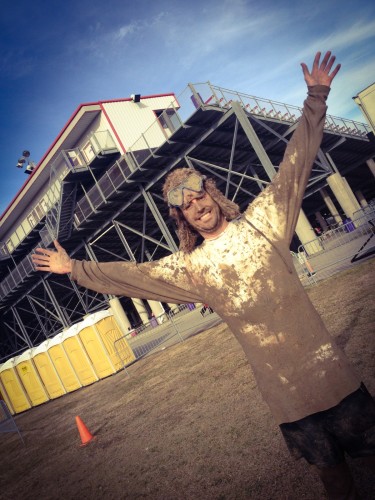 The network asked Benny for a little "Q&A"  on his role on the show and of course, I added on my own. Some of these questions refer to segments yet to air in April and May, so if you are intrigued, then you just have to tune in every Thursday night at 8 p.m. ET. If you want to see Benny's other Q&A, visit Sportsman Channel's site here.
1. What was it like interviewing Elliott Sadler? Was there something you wished you could have done but couldn't because of time or other restraints?
–       Elliot was a great genuine guy.  And a passionate, yet, borderline crazy man when it comes to deer hunting, and for those reasons, we could be great friends. If we had more time, I would have shown off my sweet racing skills.  I can take both left and RIGHT turns!
2.  You visited the Texas Armoring Co – what in your house or possession would you cover in Armor?
–  That would be the Toaster; she needs it around my crazy shooting friends.
3. Regarding the BBQ pit episode – are you a BBQ'er? How do you BBQ in Watertown, SD?
–  I'm a basic man when it comes to BBQ'ing.  All I need are some chicken parts, beans, BBQ sauce, a few cold beers and I'll build you a good meal
4. Regarding the Bull Run episode (airing April 17) – what were your expectations going into that? Did it turn out like you thought?
–  Now that I'm older, I've lost my sweet dodge and weave skills that I perfected while running from the cops so… my expectations were to survive.  And I did just that.
5. Yeah, right. How many takes did you have to do on that one?
 – I may have had to run with the bulls a few times and those monsters did get a little TOO close for comfort. I could feel 'em on my heels!
6. This week you visit real pirate treasure hunters. I bet these are unique guys – what didn't we see on TV?
– There was one part where the pirate hunter suggested we enter this tank where they clean all the grudge and crap off the 300-year-old concretions. I considered it until we were told our clothes would be eaten by the chemicals. I should have brought my 'GUN IT' hazmat suit!
Thanks Benny!