My Time at the NRA Annual Meetings – In Pictures
I'm off around this great country once again – this time landing in Indianapolis to herd Sportsman Channel talent at the 143rd Annual NRA Annual Meeting and Exhibits.
First up is an idea Pigman's Business Manager came up with – "Breakfast with the Pig." Now Pigman isn't such an ego-freak that he wouldn't take time out of his schedule to hang with a couple fans. Plus, Bass Pro Shops threw in $100 gift cards for second place prizes (thanks guys!). Breakfast – and Bacon – was had by all. Why don't more talent do something like this? And it wasn't the network's idea. Just goes to show, if you have a good idea – share it! You never know you might be taken up on it.
How cool is this lady's necklace & earrings set? Trust me, there was A LOT of this on the show floor.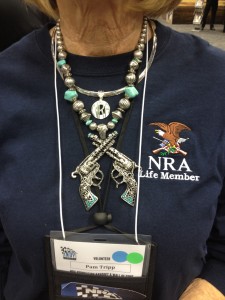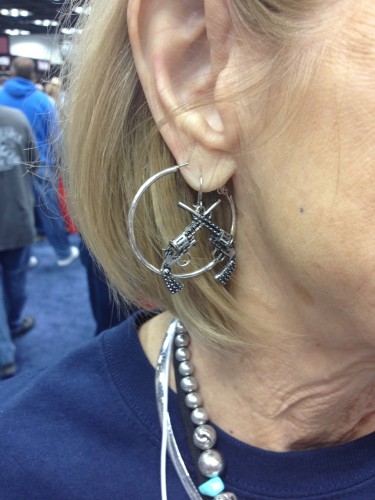 And there's my favorite huntress, Melissa Bachman, signing away on Winchester posters and giving away Winchester bandanas. Her line was the LONGEST line of any talent we had there that day (except for Gunny, of course, its hard to beat that)
Matt Huges is coming on Sportsman Channel in July with his new show, UNCAGED. He's a very down-to-earth guy…with a very strong grip. Has a wife and four kids – wonder if we'll see them on the TV show?
A very special surprise for Cam Edwards, host of Cam & Co. on Sportsman Channel. Seems that Pigman knows some people in Texas who do up really nice boots and he gifted this "Indy-themed" pair to Cam on set.
Cam is wearing a buffalo hat (gift from Benny Spies) and there are chocolate peanuts on the table. Just another day on set with Cam & Co.
And no show wouldn't be complete without a little autograph from The Gunny – R. Lee Ermey. This fan brought DVD's of "Full Metal Jacket" for him to sign. Now that's thinking.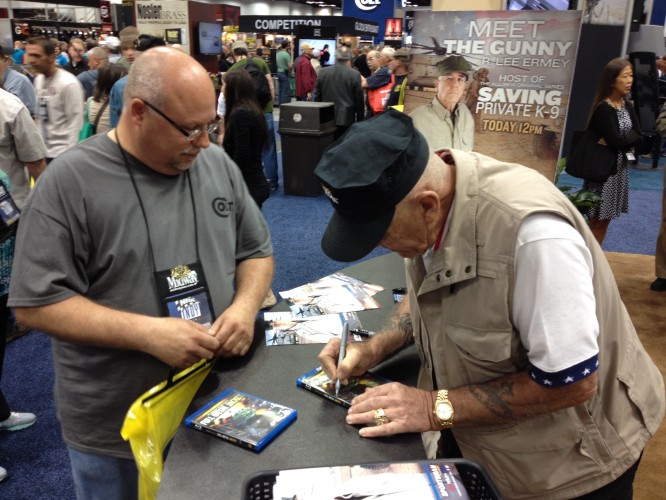 And I have to give one marketing-related shout out to Browning for thinking to insert a TV screen into a safe to showcase videos of what that safe can do – and show off how much it can hold – safely, securely and it gets people's attention. Bravo guys.