My Super Cool Holiday Gift List for the Outdoorsy Type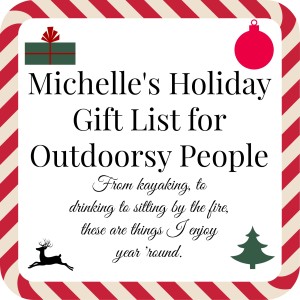 This is not like your typical gift list. For one, I consider myself a neat person, so therefore, this list is neat. It is curated with love. For another, most of this stuff I've tried/used, and the ones I haven't, I tell you. (I only add them because of their high "that's neat" factor.)
So man or woman, young or young-at-heart, here are a few items to consider for the person who has everything.
Mystery Tackle Box – how many monthly boxes will be invented? I need to invent one. This box for the angler enthusiast in your life looks pretty neat, however. http://mysterytacklebox.com Plus, they'll donate $1 to a charity of your choice with every gift subscription.
Camp Chef Italia Pizza Oven and Large Outdoor Screen – think ahead six months and the family will ADORE you for these two items. The pizza oven is easy to use and clean up and the screen is sturdy and swift to put up. The only thing missing is your average projector and popcorn. Visit Camp Chef YouTube page for a variety of videos on both products.
Camp Chef Monterey Fire Table – Don't want to deal with wood and real fire anymore? Nothing is more simple than turning on the gas for ambiance and warmth during a chilly summer night. I've sat out on the patio with a glass of wine just staring at the fire by myself. Be sure to get the cover that goes with it to keep your fire table looking good.
Cairn Hiking Box – http://www.getcairn.com – Great gift for the 'impossible' to buy for outdoorsy person in your life. I never even heard of this company until my outdoorsy bestie showed it me. For $25 a month (free shipping) a box arrives with a "carefully curated" selection of outdoor related items, usually from four categories:
GEAR: Thermoses, Headlamps, First Aid Kits
APPAREL: Hiking socks, Gloves, Beanies
FOOD/NUTRITION: Energy Bars, Snacks for the trail, Drink mixes
SKIN CARE: Sun products, Insect repellants, Lip balms
Cairn asks about your recreational interests when you sign up. In some months the boxes are customized (hikers might get a different item than bikers, for example) while in other months everyone gets the same items.
Fellow kayakers will appreciate this wine carrier – no glass! The Vapur Vintage Wine Carrier From their website: "Outfitted with an easy screw cap and a peekaboo window, Vapur Vintage is built to hold up to one bottle of any wine variety. You're now equipped to uncork for any adventure!"
Vapur's "anti-bottles" are pretty cool too: http://vapur.us/element
See All Open Sight – I haven't tried this yet, but my bestie made the website, so it must be good, right? http://www.seeallopensight.com  No batteries and it claims you can see both the sight and the target at the same time with no fuzziness. I go back and forth between shooting with both eyes open and shooting with my dominate eye – maybe this will help.
Merry Christmas!!