Back at the Lodge Podcast- On Location in CANCUN!!
I am on location for the first annual BulletProof Communications Corporate Retreat, which happens to be in Cancun, Mexico this year. Ok, that's really kidding. I happened to take a "girls trip" with my bestie, Cassie, for a few days for sun and fun. But how we got on this trip is a good story in of itself and one you need to hear Cassie tell the tale. Also in this session, besides hearing the crashing waves on the beach we were sitting on, you'll learn: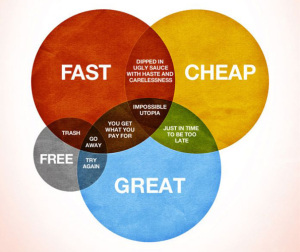 Cassie is an excellent graphic designer (she's for hire!! check out her portfolio here) and shares things you never say to a graphic designer and how this diagram (left) is SO TRUE!!! You can only pick two, people.
We were staying at the lovely Riu Cancun – shout out to all the hard working staff at this resort. Seriously, these guys and gals are top notch.
Cassie claims she would get the Wisconsin Dells logo tattooed on her in return for hotel stays and waterpark passes for life.
Cassie asks me what my number one client would be – and I say WINERIES!!! I would actually work for a winery in exchange for product i.e. WINE.
"It's the Effing Catalina Wine Mixer!!!! If you don't know what movie this quote is from, check it out here.
Want some Pinot Meow? Learn more here.
My "Meow's It Going" shirt I wore in Vegas during SHOT Show.
Forgive me as I laugh A LOT in this podcast – what can I say, we were having a good time.
Listen to Back at the Lodge on iTunes, Stitcher Radio and iHeartRadio.