7 Things You Might Not Know About The Gunny
During the Great American Outdoors Show, or more affectionately known as "the Harrisburg Show," I was able to spend some time with R. Lee Ermey, better known at The Gunny from the film Full Metal Jacket. But he's going to be BETTER well-known for his role in the new Sportsman Channel series "Saving Private K-9" premiering this May. I'm  looking forward to this series about military dogs and their handlers – and of course, seeing Gunny in action.
Gunny isn't spry by any means, but his stories have told you a life well lived. We didn't get to spend too much time as I drove him to/from our booth at the show and airport, but in that short time, I don't think there was ever a moment of silence.
1. His golf handicap is in the teens: Of course he has a country club membership, but this guy talks just as passionately about golf as he does hunting. I said next time we are in Vegas for SHOT Show, he needs to bring his clubs!
2. He knows diamonds: That Marine ring he sports has a 4 caret diamond. The model we hired to help in our booth beat him by a full carat. But Gunny knows his diamonds as he rattled off the cut and clarity of her diamond and ring! It surprised both of us.
3. He likes people: If this were me standing in line signing autographs for 4 hours, I would have been bouncing off the walls. Not Gunny, I think he genuinely likes people. Its refreshing to see in someone of his status.
4. But he still "tells it like it is": If you watched NRANEWS when he was on that week, you know what I'm talking about. He's not going to take notice to trivial things like "talking points" from publicists like me. He's a little like Nugent that way – what comes out, is out. And that's all there is.
5. He likes older country music: Mostly we listened to Willie's Roadhouse on XM and both knew the words to Marty Robbin's "El Paso" tune. (I believed we truly bonded at that time.)
6. He's open about his family: We talked about his family – brothers, dad, mom, his dad's new "love interest," (his dad is still alive and well at 90) and more.
7. He watches what he eats: limiting fatty meats (thank goodness he's a hunter then as venison is very lean) and eating more veggies and "clean" foods. And heck, he looks great, so he must've figured something out there.
And because I'm obviously a cool cat, Gunny gifted me with this metal dog tag engraved with words "Semper Fidelis," his image and "R. Lee Ermey USMC."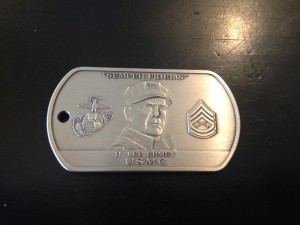 Thanks Gunny!
Hope to hang with you again real soon.